SHARKMANIA on Syfy Channel
(1.5/5)
Pros: A few chuckles
Cons: List itself is questionable; program seems very self-serving; an overload of awful CGI
As the world prepares for the AHEM "greatness" of Sharknado 2: The Second One which premieres later this week, Syfy Channel has graciously concocted a sort of "greatest hits" collection showing the worst and better moments from the history of the shark attack genre of films. Following in the wake of 1975's Jaws (the first and undeniably best film in the genre), numerous ripoffs and variations on the basic "killer shark on the loose" story popped up, ranging from the Italian remake The Last Shark and sleazy, Mexican-produced Tintorera, to "Jaws on land" films like Grizzly and Razorback. Still, even considering how lousy and laughable some of these films were, I don't think anybody was quite prepared for the likes of the increasingly insane made-for-cable and video productions that started to overwhelm Syfy Channel's programming line-up in the late 2000s.

Worst lineup of television programming ever?
I've been a huge fan of shark-related programming and movies since I was first saw Jaws many, many moons ago, but purposely ludicrous films like Mega Shark vs. Giant Octopus, Sand Sharks, and Super Shark exist as utter cinematic refuse by most any standard. These films aren't without their admirers though – they've obviously picked up a large cult following and 2014's Syfy Channel special Sharkmania: The Top 15 Biggest, Baddest, Bloodiest Bites examines the phenomenon of the cheesy monster shark movie and revels in it. This two hour program runs through a list of the "best" and, perhaps more importantly, most outrageous shark movie scenes that have turned up over the years. As seems to be the case with the numerous, low class monster flicks that regularly play on Syfy, Sharkmania seems to have been tailor-made for the undemanding, ADHD-riddled viewer since it's mostly a collection of comedians and Z-grade actors prattling on about various completely absurd shark film sequences. Clips from the films in question reinforce and punctuate their arguments, but (like many of the films featured in the countdown) the assortment of talking heads here mainly seem interested in focusing on crude and sexual humor and moments of extreme gore and bloodshed.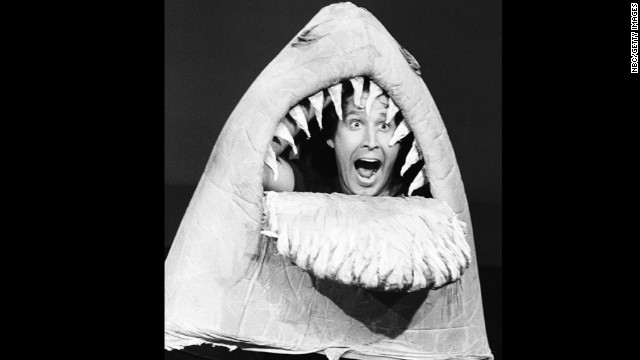 Syfy's typical day of godawful television programming makes me yearn for these days…
Considering how downright goofy some of the films featured on this list are (unsurprisingly, Sharkmania devotes much of its attention to consistently asinine Syfy Channel productions), the most shocking thing about the program is how relatively unfunny the thing is. Sure, most of the people who provide their two cents during the show don't have much of anything important to say in the first place as they make fools of themselves on camera, but the program accentuates lowest common denominator "humor " to the point where it simply isn't funny. Additionally, the producers of this show seem to believe that any viewer would have precisely no attention span since Sharkmania tries to cram about fifty pounds of crap into a five-pound sack; it's the type of thing that I'd expect to see being played as part of VH1's "cultural programming." Editing throughout the loud and somewhat disjointed show is manic to the point of being disorienting, bouncing around pinball-like between talking heads, archival pop culture footage, movie clips, and horrific CGI animation. Ultimately, while I could complain all day about the films chosen for inclusion the list in the first place (only two of which actually seem to be serious choices), the thing that's most alarming is that this type of amateurish, pointless production passes as (supposedly) legitimate entertainment today.

Winning CGI animation highlights many of Syfy's shark-related movies.
It's immediately apparent watching Sharkmania that absolutely no honest-to-goodness film critics or historians had anything to do with the assembly of the (purportedly) "classic" shark attack film moments featured in this countdown. Films like Austin Powers Goldmember and Ace Ventura: Pet Detective are placed alongside Jaws and Open Water despite the fact that those comedies only have brief segments dealing with sharks. And let's not even discuss the fact that Jaws and its iconic (and SCARY!) opening scene ranks number four on Sharkmania's list, behind such masterpieces as Deep Blue Sea, Mega Shark vs. Giant Octopus, and – are you ready for this? – Sharktopus. That fact alone should give one an indication of what to expect from this program overall – clearly, this list is more about pointing out ridiculous moments from the genre instead of acknowledging brilliance.

Really? Number four??!?
Giving credit where credit is due, I can say that Sharkmania does highlight often jaw-dropping, amusing scenes from low budget cinema, including positively moronic attack sequences from films like Sharks in Venice (sharks invade the canal system of the Italian city), Bait (a group of people find themselves trapped in a shark-infested supermarket after a tsunami floods a downtown area), 2-Headed Shark Attack (self-explanatory), and Ghost Shark (spectral great white picks up the ability to manifest itself in any body of water, ranging from swimming pools to mud puddles and yes, even the toilet). Some of the commentary relating to these scenes is genuinely funny and will elicit some chuckles (I especially liked the recreation of the abominable conclusion to Jaws 3-D), but listening to "luminaries" such as Brooke (daughter of Hulk) Hogan, former Skinamax actress Kari Wuhrer, MTV DJ Julie Brown, and musician-turned-actor Mark McGrath (among others) provide their "expert analysis" about the monster shark genre simply isn't as much fun as it sounds or perhaps, as it should be. Furthermore, a few segments of Sharkmania are oddly drawn out and others more or less ruin the films discussed by providing big-time spoilers; as a whole, the program seems to have been made very quickly and cheaply, thus the collection of desperate actors providing analysis and the use of soundtrack album covers and foreign press material in place of movie posters (can't license out the trademarks to Goldmember? Why not use the German pressbook cover!).

There's a strange lack of Monster Shark – the obvious inspiration for Sharktopus – in Sharkmania…
In the end, Sharkmania comes across as one big pat on the back for SyFy Channel and movie studio The Asylum, who produced many of the doofy and moronic titles highlighted in the program. In my opinion, these types of purposely awful shark attack films (unanimously made by talentless, hack film makers) are nearly worthless, having none of the charm that makes schlock films of yesteryear so endearing. The "big joke" in them seems to be that a viewer will never get back the time spent watching them, and that's probably the biggest problem with Sharkmania as well. Crammed full of more atrocious computer animation than I've seen in the last five years (seriously – it almost made me want to throw up), Sharkmania is entertaining enough as a mindless time-waste, but I would sincerely hope most people would have something better to do with their time.