Kick-Ass 3
(4.5/5)
Pros: Very interesting storyline, characters, ending, and brutal action
Cons: Some small writing issues
Together with Mindy aka Hit-Girl, Dave Lizewski aka Kick-Ass were able to raise a superhero army to battle against their nemesis Red Mist, whom raised an army of super villains to go on a rampage. They narrowly defeated his group and Kick-Ass was able to avoid being arrested. Unfortunately,  Hit-Girl was captured and sent to prison. Now together with his group called Justice Forever, Kick-Ass plans to break Hit-Girl out of prison. -summary
Kick-Ass written by Mark Millar was a series that grabbed me instantly due to its thought provoking and down to Earth premise. The original story focused on a group of comic book fans whom wanted to don costumes and become superheroes, while ignoring the dangers of attempting something so out of the ordinary. The point of the story was that anyone was capable of doing good things if they had the motivation for it; however, there were consequences such as dying a very early death either through accidents or by pissing off the wrong people.
The original Kick-Ass story actually had a point despite being brutally delivered in the form of child combatants; it was something that could actually make one think. The character development was sharp, with edgy storytelling chockfull of dark comedy and social consciousness. Unfortunately, Kick-Ass 2 was nothing like this. I think the series went to hell with Kick-Ass 2, as Mark Millar abandoned his original concept thrusting the characters into the roles of archetypes and taking the cheap way out by cranking the violence up to 11. The sequel felt as if Millar was simply milking the name for all it was worth. Thankfully, Kick-Ass 3 feels more like  a return to its roots, and I'm willing to forgive Millar for that last travesty. Kick-Ass 3 is the final chapter, with this TPB collecting issues 1 – 8.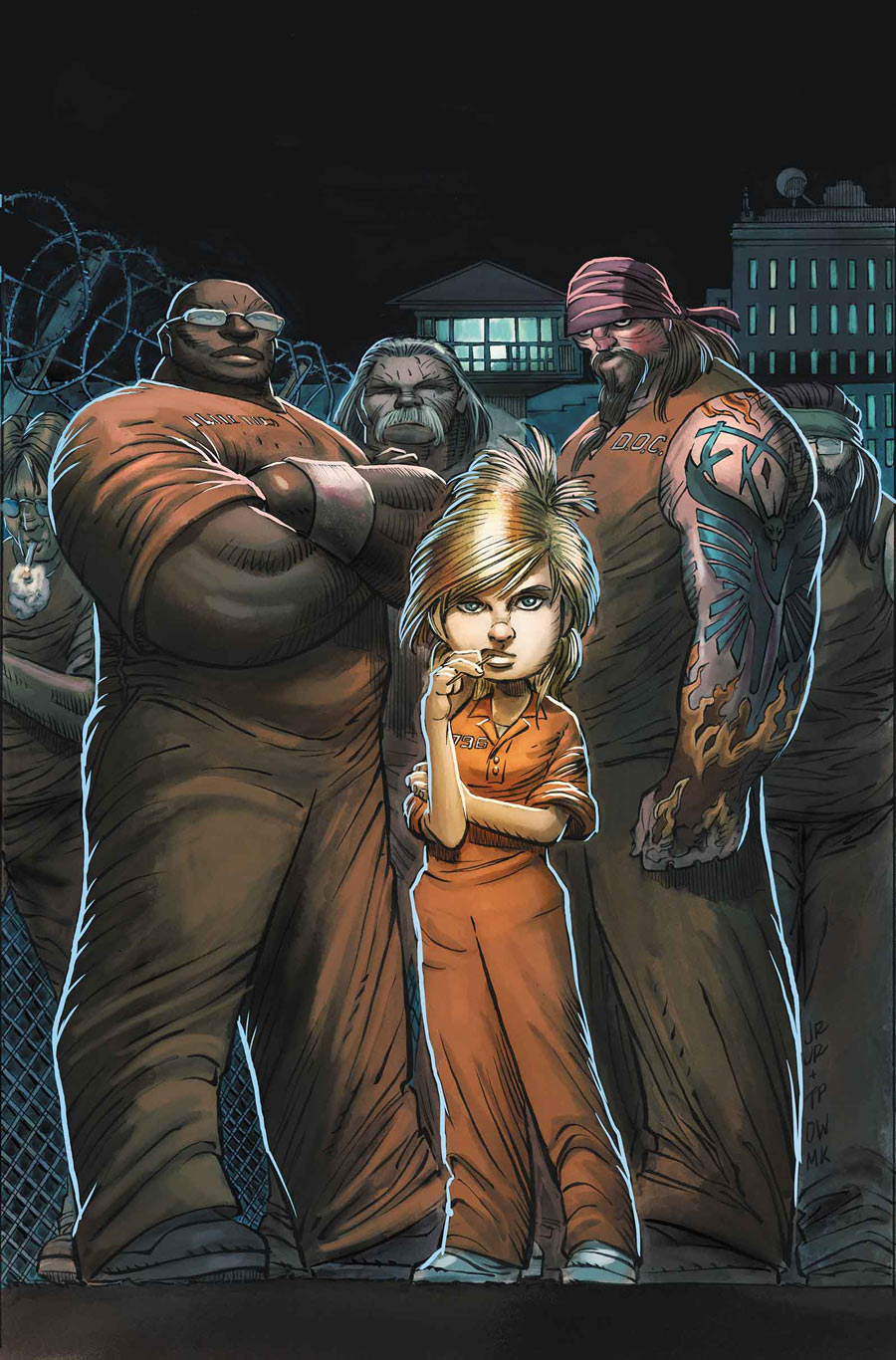 The plot picks up with Dave attempting to follow Hit-Girl's plan to spring her from prison, but after botching the attempt he plans to take down the next mobster instead; whom is none other than the uncle of Red Mist.  Millar's writing simply rules for the most part as he continues portraying these characters as good people whom want to do the right thing, however they are terribly roped into the comic book world. They know that their lives are on the line, yet at the same time they're just not taking these situations seriously, such as Dave hoping to re-enact a segment out of Batman: Year One to strike fear in the hearts of criminals.  Later on, Dave finally ends up with a girlfriend, and he begins to see that the world has more to offer; this leads him to realize that the whole superhero thing was a form of escapism for him due to his regular life just not being all that good. This thrusts him into conflicting emotions on whether if he should just settle down or continue risking his life.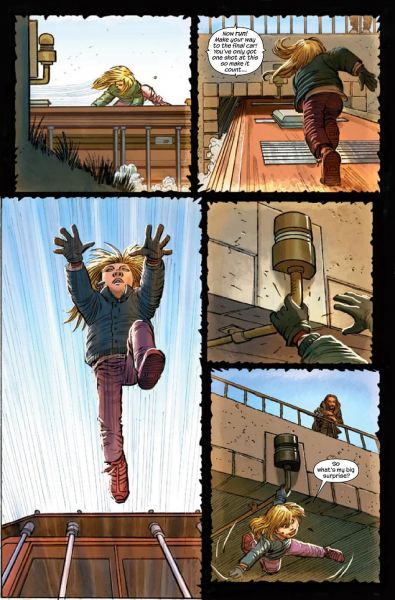 This is the type of writing that drew me into Millar's work. I was interested in Dave again, and I was pulling for him to take a chance in enjoying a regular life. Fortunately, there is so much going on within the story, that the reader will find other things to grab their interest. There are several sub plots and even twist, which keeps the story very well paced and interesting.  There is also plenty of action too, but it's quite toned down from the second volume which I deem the most brutal. There is a lot I like about this book, and I liked the ending so much since it was a proper send off for most of the characters, and I didn't see some of those things coming.
I really wanted to like this book a lot more. Unfortunately, the juvenile side of Millar's personality surfaces while developing parts of Dave's relationship. Some things simply should have been left up to the imagination, and on a few occasions the traditional superhero clichés pop up.
John Romita Jr. continues with his gritty, street level artwork that has been a trade mark for the series. I like his various character designs; there is a lot of range across the board with little shortcuts being taken. It's not like Steve Dillon's artwork for example, where everyone has the same face and on many occasions even body type. The action panels are highly entertaining with a swift kick in the balls looking painful as usual. The carnage is well delivered with bullet holes straight through bodies, brains blown out, and free beatings dished out.  Plus Millar's dialog is still just as great with some sick lines packed with loads of dark humor.
In summary, if you loved the first two series then you'll love Kick-Ass 3. If you hated the series due to a disdain for child combatants or whatever reasons. Then don't even waste your time because it's more of that. I personally feel this chapter redeemed the series and I can easily read this again.  If you're unfamiliar with this series I highly suggest starting from the beginning. If you like brutal, action packed comics in line with The Punisher for example, then this is for you.